With so many companies to choose from and various office glass partitions on the market, it's hard to know where to start or even roughly calculate glass partitions cost. We have the experience you need to help you figure out what's right for your business.
Generally, the cost of office glass partitions depends on the type of glass used and specifications required (e.g. glass wall thickness). What works in one office environment will not necessarily work for your team.
In this article, we will look at the things you should consider and provide information so you can make the best choice of system based on your budget and requirements. We will also explore the glass partition installation costs in terms of the labour involved with installing these types of systems.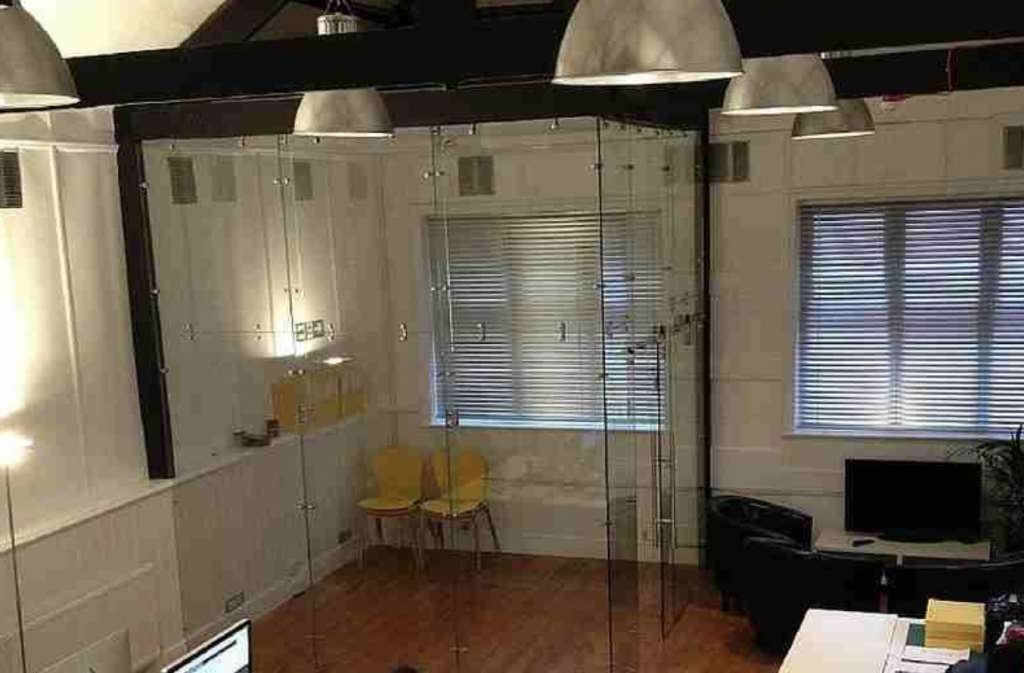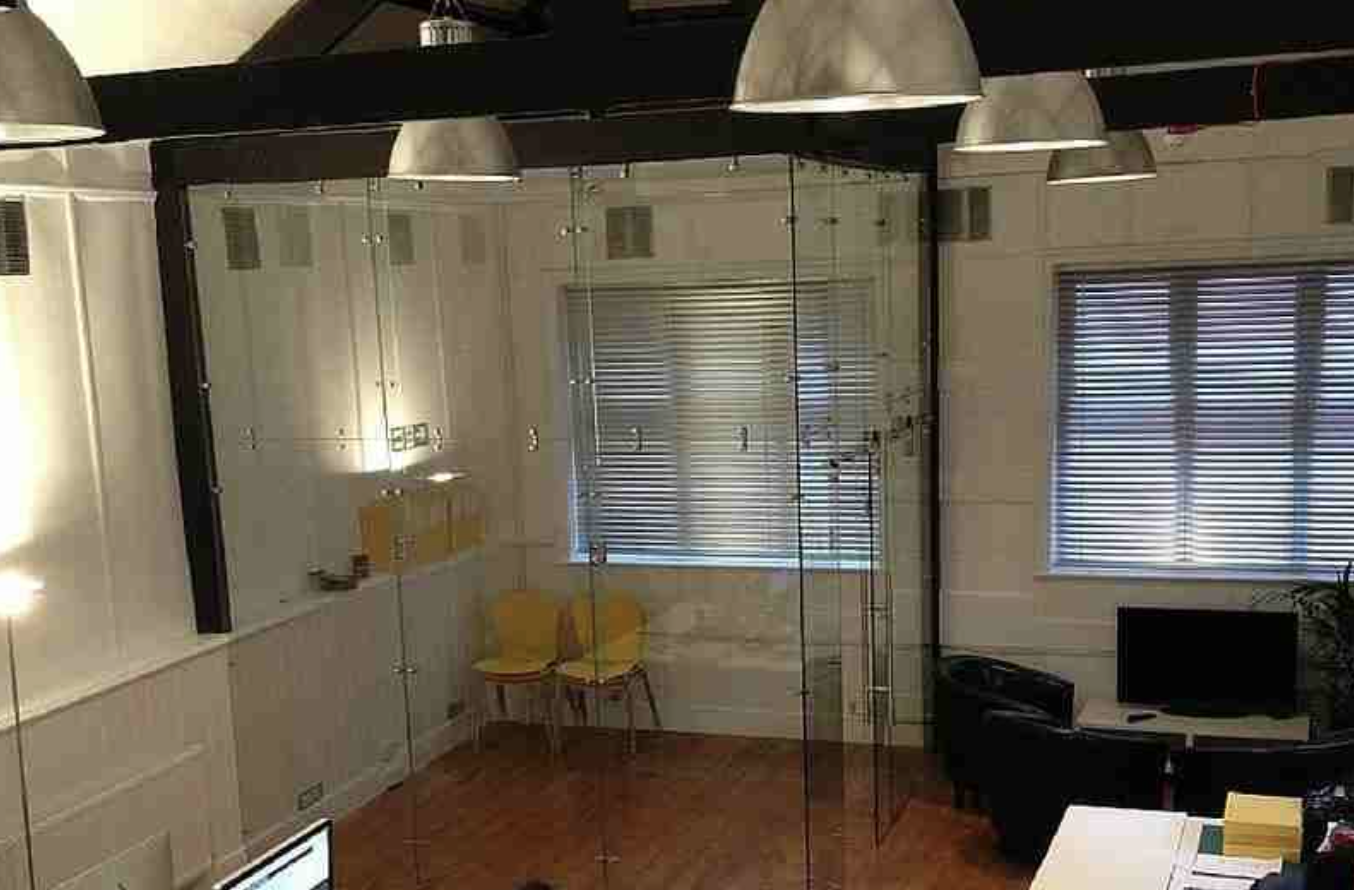 Different types of glass wall partitions
Single glazed glass partitions
Single glazed partition walls are formed of one glass skin and held in place by U-channel track or aluminium profiles. They are generally easy to install.
Cost: They use fewer materials and so they're a more cost effective option.
Double glazed glass partitions
Double glazing partitioning is a very effective way to divide areas without sacrificing space. They offer significantly better sound insulation than single glazed options. They also possess more strength and rigidity, which means they can accommodate larger loads and panels.
Cost: Since you need to use wider aluminium profiles and more glass, it generally results in double glazing partitions cost being 2 or 3 times the cost of single glazing.
Framed glass partition walls
Framed glass partition walls aid in the overall strength and rigidity of glass partitions with aluminium profiles. This option is significantly better in situations when you need sound reduction – for example in offices or meeting rooms. Additionally, some systems allow for venetian blinds within double glazed frames to provide additional privacy.
Cost: Framed glass partition systems are built with additional aluminium materials, which go into the ceiling and walls of the partitioned room. This is therefore a more expensive option than frameless systems. Adding blinds increases the cost of these systems further.
Frameless glass partition walls
Frameless glass partition walls offer a sleek and minimal finish that is lightweight, highly resistant to corrosion and has high thermal insulation properties. Thanks to their resistance to impact, you can use frameless glass as a security wall. They allow the use of single or double-glazed panels depending on the application. You can also choose between wet joint (using silicon) or dry joint (using prefabricated joining tape). Dry joints are less susceptible to acoustic insulation. For even more flexibility in your design, consider using a substrate for non-glass partitions that enables you to add mesh wire for additional strength.
Cost: Frameless glass partitions cost less than framed systems.
Different types of glass door partitions
Frameless office glass doors
Single glazed glass doors can be used effectively on their own or together with the rest of a selected range of glass partition doors, for example, for offices or residential homes. By choosing single glazed glass you can dramatically reduce costs. are made from toughened glass and provide a simple way to separate areas in a room.
Cost: These doors can be either single or double glass, depending on the application's requirements. Accordingly, the cost can differ. The main component in fixing frameless glass doors is ironmongery which can be quite pricey and can thereby increase the overall glass partitions cost. It'll be good to research ironmongery stores online and offline to find the brands that are most affordable to you.
Framed office glass doors
Framed glass partition doors offer more advantages than their frameless counterparts. There are two types of framed glass partition doors, single glazed and double glazed with double glazing being the most cost effective option to be used in partitioning applications.
Cost: There are more materials introduced in framed glass doors compared to frameless ones. As such, they are more expensive and the chosen ironmongery can affect the overall glass partitions cost.
Sliding office glass doors
Sliding glass doors are suitable for almost any indoor or outdoor space to create a more visually open area for the view and feel of space without consuming much square footage. Sliding glass doors offer a sense of ease and understated beauty, letting the interior and exterior come together in a harmonious way. Furthermore, similar to swing doors, sliding doors can be installed as double doors.
Cost: Usually, sliding doors are costlier than "swing" doors. However, this depends on the type of door structure that you choose.
Types of office partition glasses available
Toughened partition wall glass
When the glass breaks it fractures into tiny granular fragments instead of sharp-edged shards, a characteristic of brittle glass. The result is a safe glass which is therefore quite popular for many use cases including office partitioning. It's a widely accepted type of glass and is also quite cheap to source as well. This strong and inexpensive material can be used to partition your workspace without sacrificing safety or style.
Acoustic partition wall glass
Acoustic glass is a laminated glass panel; it usually comprises 2 sheets (or more) of glass bonded together with an interlayer designed to absorb sound. This interlayer does not affect the transparency of the glass. Acoustic glass can be used in both single glazed installation projects and double glazed installation projects.
Due to the added interlayer, acoustic glass is more expensive than traditional window glass and is usually more widely used in commercial buildings rather than residential buildings.
Fire-rated partition wall glass
Fire-rated glass is tempered glass that has been tested for fire and smoke protection. However, it should be noted that if building regulations do not require this type of glass, less expensive alternatives to fire-rated glass may be considered.
Such glass must meet a particular standard of construction so that it can be tested at an ISO accredited laboratory in order to be classified as such. The ability of fire-rated glass to withstand extreme temperatures and rates of spread is dependent on how the glass is made.
The cost of fire rated glass can be expensive due to its laborious manufacturing process. As such, it's best that you have such a glass only if required by the building regulations.
Curved partition wall glass
Curved glass is a popular choice for businesses seeking a modern and innovative look. Curved glass panes are much more expensive than flat glass. They are produced with the help of an extruded aluminium frame and small steel molds. This allows for even small curves to be manufactured to order. Furthermore, production of curved glass, curved glass partitions, and aluminium glazing track is a highly specialised job. As such, the cost of curved glasses can be comparatively higher than the other options.
Choosing the right type of glass partitions
When setting up your office, apart from the quantity of glass and glass doors you require, and the kind of partitioning system you go for are the major elements which will influence your material costs. The use of bespoke or less standard materials can affect the glass partitions cost. For example, you might want to use a bespoke track colour, perhaps to match your brand colours, as opposed to the standard or "off the shelf" black, white, silver, grey or mill finish.
Labour cost of installing glass partitions
The factors that can contribute towards the cost of installing glass partitions are as follows:
Site location
Ease of access
Glazing area
Door type used
Partition system used
Let's look at each factor in more detail.
Site location
The site location plays a significant portion when quoting for a glass installation job. Some companies may add travel costs to the price, usually based on fuel and time. So it is essential to find a glazing company that is relatively local to the site or check if there are any additional travel charges added. It will also be important to ensure that materials can be safely delivered, stored and carried.
Ease of access
The level of ease in accessing the site where you want the partitions installed can also determine the associated installation cost. The location of your project plays a vital role in the logistics for your materials and workforce. Where will your help arrive from? Will any materials need to be transported up or down stairs? What about storing items onsite? Setting up a temporary storage area is essential, especially if you're carrying out exterior works like glazing or roofing. This is especially true in cases when elevator access is required for office complexes at high floors.
Glazing area
This refers to the areas within which the glass partitions are going to be installed. Are the surfaces level and plumb? Does it require additional work for them to be corrected? Are there any visible fittings, piping or any other obstacles that are present in the area? How big of an area requires glazing? Depending on the responses to these questions, the glass partitions cost can vary.
Door Type Used
We all understand how expensive it is to install doors, the type of doors you choose and the volume of doors you need will inevitably affect your budget. We will explore all options available, no matter how expensive the cheapest option may be, we believe that you're going to save money and time in the long run. With so many office door types to choose from, it can be difficult to know what options are best for your business.
Single glazed frameless doors: The installation process is comparatively easier and therefore costs less.
Framed glass doors: Compared to frameless doors, framed doors require more work to install, including door legs and overhead track.
Sliding doors: Broadly there are two types of top hung sliding doors, namely Trojan and Manet. The former takes less time to install and is therefore less expensive than installing Manet doors.
Timber doors: Installing these doors require specialist carpentry skills and can therefore be more costly.
Partition system used
As discussed above, there are different types of partitions doors that you can choose from. Accordingly, the installation cost for each can differ too.
Single glazed office partitioning: These are a popular option and is relatively easier to install. The installation cost therefore is quite low too.
Double glazed office partitioning: Generally requires almost twice the time of installing single glazed partitions and can therefore be more expensive.
Fire rated glazing systems: These require more preparation work and need to be assessed individually based on various use cases. As such, the cost can be higher.
Framed wall partitions: The cost depends on the features required and the preparation involved in installing them. For example, almost all framed glass office partitions have two layers of glass which means extra time is required to make sure the glasses and frames are spotless before closing them in.
Final thoughts
We addressed various factors to consider when installing glass partitions and the associated cost can depend on these factors. We also identified that material costs form the larger portion of the glass partitions cost and is therefore important that you spend most time evaluating the material options available that suit your requirements. Thereafter, you can assess the installation types and more.
It is evident that all of this can seem very overwhelming and there are many more options that you could come across in reality. It's therefore important you consult a professional glass installation team to survey your site and provide as assessment/quotation based on your requirement. Our team at Clearly Glass Ltd provides a free office glass partitions quote so do get in touch should you need a glass partition installed.