When you're getting ready to re-do your bathroom, choosing a high quality glass shower door is one of the best investments you can make. But it isn't as simple as £50 shower doors you can buy off the shelf. There are many factors involved with selecting a shower door and here you'll find the specific details on glass shower door cost that will help you make a more informed decision.
Installing a glass shower door
In most cases you can customise your shower with a wide range of materials and fixtures, from matte-finished steel and bespoke tiles to brightly coloured glass and bathroom cladding. A number of unique styles are available as well, from sleek contemporary looks to bold rustic styles.
As such you should determine which types of panels you would like for your new shower. Choices for panels include clear glass, tinted glass, frosted glass and much more. Another thing to consider when ordering glass enclosures is whether or not a door is necessary (i.e. framed or frameless).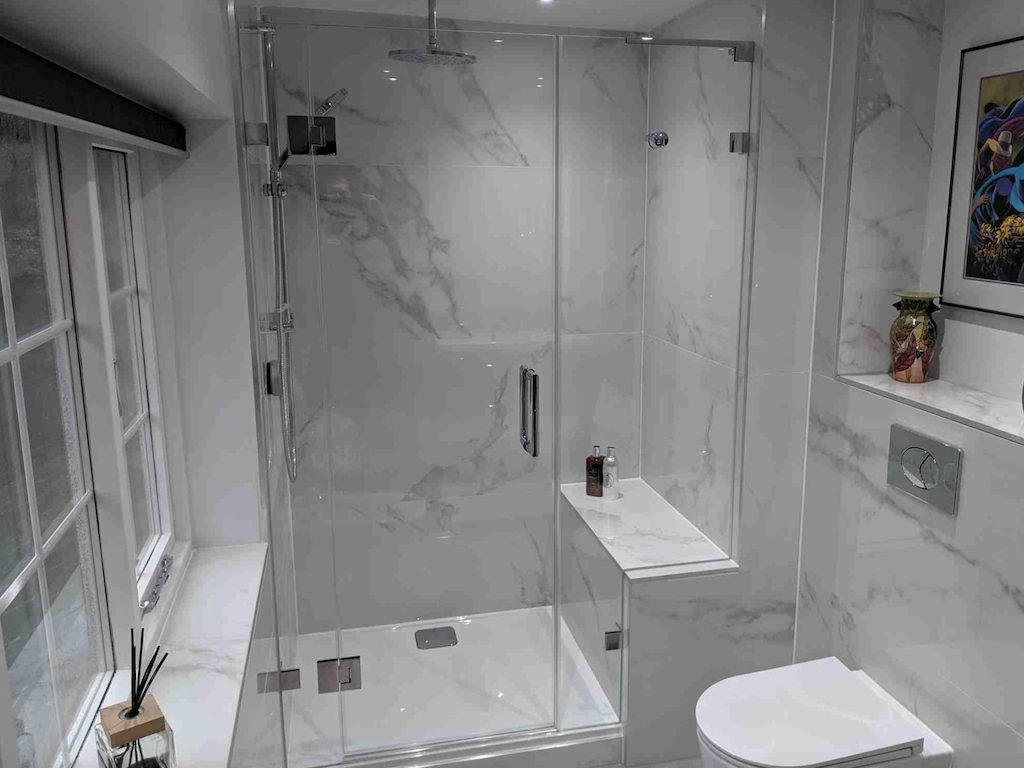 How much does a glass shower door cost?
If you're in the market for a new custom glass shower, it helps to understand the cost differences between framed and frameless shower doors. Choosing a shower door is no small task. It's important that you fully understand these differences in order to choose the right option for your new custom glass shower.
Glass shower door prices start at £350 to £1,000+ for framed doors and £450 to £2,000+ for frameless shower doors. The average cost of custom made glass shower doors is between £1,000 to £3,000 (and in some cases more depending on the size and type of fixtures, fittings, etc).
Additionally, shower doors come in semi-frameless versions that cost between £500 and £2,000. They are usually quite large and sit directly on the shower opening.
Based on the above estimates and glass shower door cost considerations, the table below outlines a summary for different glass styles.
Glass shower prices
| | | | |
| --- | --- | --- | --- |
| Type | Frameless | Semi-frameless | Framed |
| Bypass (sliding / rolling) | £400 – £1,250 | £300 – £1,000 | £200 – £550 |
| Hinged / pivot | £250 – £1,120 | £250 – £650 | £200 – £650 |
| Bi-fold | £300 – £570 | £300 – £700 | £500 – £650 |
| Neo-angle | £450 – £1,050 | £500 – £1,200 | £500 – £1,000 |
| Curved / rounded | £600 – £1,100 | £500 – £1,080 | £300 – £700 |
| Full glass enclosure | £700 – £2,000 | – | £500 – £1,000 |
| Screen | £300 – £800 | – | – |
| Half-height | – | – | £1,000 – £1,500 |
Estimates of glass shower prices (exc. VAT) based on type
Frameless glass shower door cost
Frameless glass shower doors cost £450 to £2,000+ with installation, depending on size and style of door, thickness of the glass, type of hardware, and whether there is a special finish.
| | |
| --- | --- |
| Shower width | Average cost installed |
| 24″ (610mm) | £300 – £1,150 |
| 30″ (760mm) | £400 – £1,300 |
| 36″ (915mm) | £450 – £1,450 |
| 48″ (1220mm) | £400 – £1,600 |
| 56″ (1420mm) | £500 – £1,700 |
| 60″ (1525mm) | £400 – £2,000 |
Estimates of frameless glass shower door prices (exc. VAT)
It's important to note the following when installing frameless glass shower doors:
Thicker 10mm or 12mm glasses are used and attach to the wall with clips or hinges.
A U channel is used for installing frameless panels and it replaces the more conventional clip system. This is a more cost-effective way of creating an invisible support for the glass panels. This can cost an additional £50 – £150.
Homeowners with modern bathroom designs choose frameless shower doors because of how clean and simple they make the bathrooms look.
Custom frameless shower door costs will be higher.
Semi-frameless shower doors prices
The average range for semi-frameless shower doors is from £400-£1,250+ including installation or £250-£1,000 for the door alone. Semi-frameless doors have a frame where the glass meets the tile or tub but not around the door panel. Some semi-frameless doors also have a frame along the door's hinged or bottom edge.
Framed glass shower door cost
Framed shower doors cost an average of £350 to £1,000 on the low end and feature glass panels of various thicknesses supported by a stable metal frame. Again, the cost of framed shower doors depends on a number of factors including the size, style, and the glass type.
Custom shower doors cost
A skilled, experienced glass installer should fit your shower doors in your bathroom. They offer a wide range of choices – panels of acrylic or tempered glass, and cut-to-size custom designs. The cost could range typically between £1,200 to £3,000.
You will also have the option of the following upgrades:
By type, i.e. Clear, frosted, tinted, textured, or rain glass
Standard 10mm or thicker 12mm glass
Standard clear or ultra-clear low-iron glass
Stainless-steel fixtures
Anti-stain and anti-spot coatings
Shower screen prices
Shower screens are made from clear or frosted glass and are typically framed in chrome, wood or stone. Prices for shower panels are about £100 to £600 for the panel alone or £200 to £8,000 with installation. Click here to learn more about our glass shower screens.
Half-height shower doors prices
The cost of half-height shower glass doors range between £1,000-£1,300. These single-panel units are especially helpful for senior citizens and physically handicapped patients. Doors put in by a professional will make it easier for caregivers or family members to provide care. They're available in 180-degree radius hinges, making them especially easy to use and install.
Frameless glass shower enclosures cost
Frameless glass shower doors cost between £600 to £3,200 on average, depending on size and style. They come prefabricated or may be custom-built to fit the space. Square, rectangle, or corner shapes called neo-angle designs are available from some manufacturers. Click here to find out more about our frameless glass shower enclosures.
Shower glass panels or walls cost
Glass panels range in price from £500 to £1,250 for a 1500mm wide frameless glass wall, which includes a hinged or sliding door. Stationary glass shower walls come with a flat panel and prices range from £100 to £400.
Labour Cost for Glass Shower Installation
Glass shower door labor prices begin at £100 for and range up to £500 for framed doors. Frameless shower door installation is at the range of £200 to £500. Custom shower door labor are comparatively more expensive as they range between £600 to £1,300.
Factors that determine glass shower door cost
Shower glass cost
The price for shower glass products ranges between £40-£165 per square meter, not including installation. The cost of shower glass depends on the type, thickness, and upgrades such as frosted, textured, tinted, low-iron, or an anti-spot coating. There are various brands you could choose from which also can determine the prices.
You may require additional features such as tinted glass, texture/rain glass, or frosted glass which can cost an additional £7-£50 per square meter.
Shower glass size
The standard size for glass shower doors are 750mm to 1500mm wide and 1800mm to 1930mm tall. Most shower openings wider than 750mm are built with a single door wide paired with a second sliding door or a stationary inline glass panel, also called a sidelight.
Shower door opening styles
The shower doors are available in various opening styles. When selecting a door, consider your bathroom's layout. For instance, hinged and pivot doors should open without hitting any obstructions.
Hinged doors swing out into the bathroom—either toward you or away from you.
Pivot doors can open in either direction offering greater flexibility.
Single-sliding doors comprise one moving door panel, which slides next to a stationary door panel along vertical tracks.
Dual-sliding doors combine the versatility of a sliding door with the convenience of a walk-in shower from either end.
Rolling doors are essentially two sliding doors that encompass an opening. They are also called barn doors.
Bi-fold doors offer flexible installation in small spaces, such as apartments and condos.
Shower screens are fixed glass panels that divide the shower opening, ideal for installing on existing bathroom structures.
Cost of replacing glass shower doors
Replacing a glass shower door with a new door in the same size and style is a cost effective option. The cost can range between £480 to £1,500 depending on the door type, size, and style.
Below are some indications that your glass shower door may need replacing:
Doors are less smooth when opening and closing
Door makes noise when opening or closing
Frames are corroded or rusted
Glass are discoloured, cracked or chipped
Door frames have visible leaks.
Are glass shower doors worth it?
Frameless glass shower doors are the perfect upgrade to any bathroom. Not only do they add value, but they make your bathroom look bigger, brighter, and more appealing. There's evidence to suggest that frameless shower doors can add 60% to 67% return on investment when compared to full-scale remodelling, making them the ideal bathroom renovations for any household.
Interested in getting custom glass shower doors installed? Get in touch with our custom glass installers at Clearly Glass Ltd and we will get back to you with a custom quotation.